This Mumbai couple is setting goals for an eco-friendly urban home
Having made a few conscious switches towards a sustainable home, Prashant and Vibhuti are always exploring ways to make their home an urban oasis.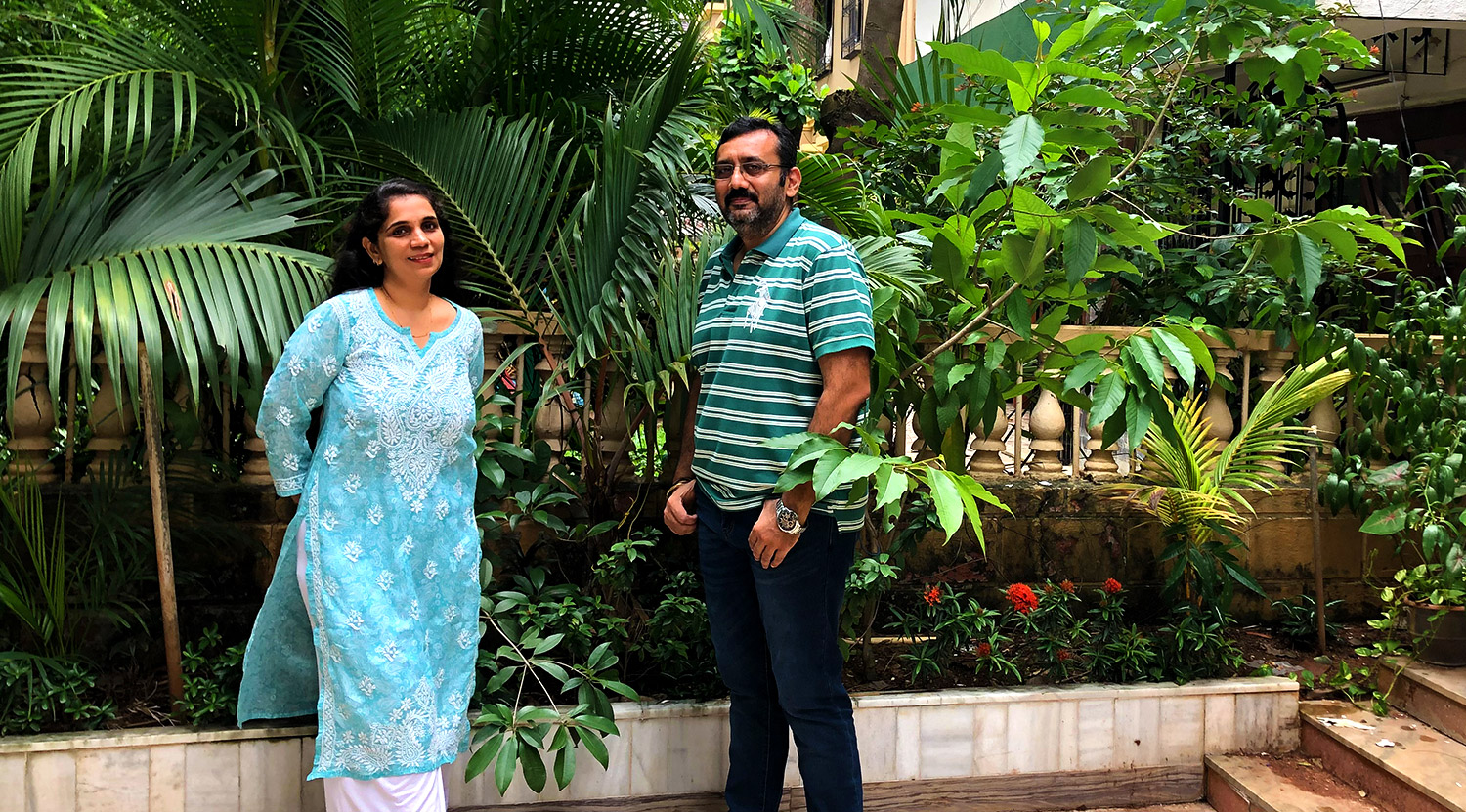 Mumbai-based couple Prashant and Vibhuti Bajaria are on a mission – to inch closer each day, towards their vision of a zero-waste life. They've solar-powered their two-storey home, installed a solar water heater, set up a home composter for wet waste, adopted rain-water harvesting, eliminated plastic bags from day-to-day life and are currently looking up options to install a leaf composter. Prashant can already visualise an electric car in his parking lot too. Living by the principle of minimal strain on the environment are also their two teenage sons and a fiercely friendly lab, Pearl.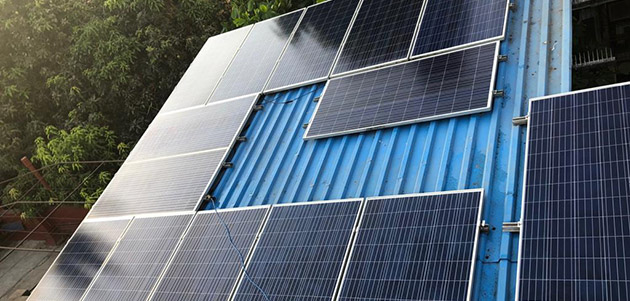 Solar Power
As a family that loves to play host, the 3,000 sq. ft. house has a steady stream of guests. This means constant usage of appliances and thus, a long electricity bill. The incentive to go solar Prashant says, was to consciously reduce carbon emissions. That it is cost-effective makes it a win-win. But not initially. The payback takes about 4-5 years, informs Prashant who chose solar powering as the first step towards going green. "Once the initial fixing is done, it's very little work. I really wish I'd gotten to this earlier," says Prashant who has thoroughly researched the process and consciously installed a majority of Indian-make parts for the changes around the house. 
---
How much power can solar panels typically generate? 
Rooftop solar power systems cannot work totally off grid in most urban areas; they must work in tandem with the local electricity provider. The size and nature of the solar system depends on your connected load. In Maharashtra, you can install solar systems with up to 80 to 90 per cent of your connected load. E.g. if connected load is 10 kilo watts (kw) then you can install a system of up to 9kw.




If your connected load (as per electric bill) is 3kw and you want to install a system of 5kw or 10kw depending on the roof area available, then you need to contact the electricity provider and get the connected load increased.

1kw system is made up of 3 solar panels and each panel is 1 meter wide and 2 meters long. So ideally a 5kw system will need space for 15 solar panels.
Claims made by solar installers are that you generate 5 units of electricity per kilo watt per day. Normally it all depends on the amount of sunlight that the system receives and usually the generation is around 4 units per kilo watt. Less generation during monsoon and cloudy days.
What factors must one look out for before the installation?
Check with the supplier/installer for government subsidies at the time of buying the panels. Subsidies are only available on panels made by Indian companies. Inverters can be of foreign make.

The company that installs the panels will do a 'shadow analysis' of your property to suggest the best spot for the panels. The spot and angle (south facing) of the panels will ensure maximum exposure to sunlight.

Core installation
On grid rooftop solar system is ideal for urban homes. However, if you don't want to use the roof, then one can raise panels on poles at the floor level too (these are easy to clean but require special permissions). And if the terrace is going to be used, then one has to raise a structure and then place solar panels on them in such a way that you have access to them whenever maintenance and cleaning is required.




The company that will install the system for you will also be responsible to get all the permissions from your electricity provider.




Solar panels are connected to an inverter, which converts DC

(direct current) into AC (alternate current) and passes it onto the grid of the power company. During the daytime when your usage is maximum, some power is taken from the solar system and some from the grid. In the evening after sunset when the system is resting, surplus power stored in the inverter goes back into the grid.




The inverter should have an auto shut down system. This is a precautionary measure in case of power outage so that someone working on the electricity lines does not get a shock while doing the repairs.




The power company will install 2 meters – 1 solar meter and 1 net meter, which will monitor the import and export of electricity. Your solar bill will have two columns – import (for electricity consumed) and export (units that have gone back into the grid) and net units will be the difference of the two.




You will have to dig a 6ft pit for an earthing wire as a safety measure in case of lightening or sudden power surge etc.
Does the system store unused power?
If there are excess units generated by the solar panels that haven't been consumed, they will go back to the grid and if electricity usage for any month is less than the number of units generated, then the excess units are carried forward to the next month.




The generation of solar power naturally slows down during the monsoon and one must depend on the grid power for the most part during these months.

Electricity generated during daytime by the solar system is used along with grid electricity to run all the home appliances hence reducing your electricity bill. E.g if your consumption is 6kw then 3kw is drawn from the rooftop solar system and 3kw from the grid.
Please note that the panels do not cover water heating. That requires a separate installation.
Rooftop solar panels get dirty with bird droppings and dust from the air. All you need is a water hose and a squeegee or microfiber cloth to clean the panels. Cleaning must be done either before 8am or after 6pm when panels are not so hot.

Do not clean solar panels in the noon as water can damage the panels as they are hot.

The solar installing company also provides an app which monitors the number of units generated every day. E.g if the daily generation is 25 units and for a few days it shows 22-18 units or so, then it's time for a clean-up

Do not walk over the panels even though they are made of toughened glass. Walking on the panel can crack the glass and affect proper working of the panels. Although while cleaning if need be, walk on the edges of the panels made of aluminium.
---
What does it mean for the environment and your pocket?
The 7.1kw system in the Bajaria house cost them Rs. 4,90,000/- 

Cuts the monthly electricity bill by more than half

Initial installation cost of the system is high but the payback period is anywhere between 4-6 years depending on the usage

Solar panels have a lifespan of 25 years and are virtually maintenance- free except for occasional cleaning

On an average, a 5kw residential system saves 15,000 pounds of CO2 emissions every year!

Approximate cost of a 1kw system is around Rs 60,000 to 65,000. Larger the system, lesser is the per kilo watt cost.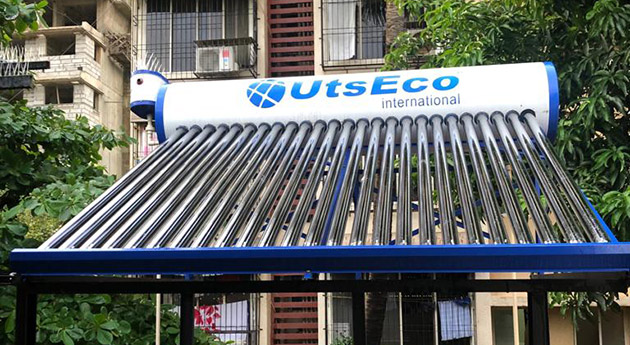 The 250 LPD solar water heater system by UtsEco International has an inlet for water to enter and get into glass tubes. These tubes heat the water which gets stored into a tank by thermo siphon system. From the outlet, a special pipe (not the PVC pipes) goes to all the bathrooms and the kitchen, ensuring piping hot water 24/7 during 9 months of the year. 

Remember, the outlet pipe of hot water should be installed into the inlet of your existing water heater so that hot water passes through this into all the taps. During the monsoons, you simply need to switch on the water heater without making a separate connection for it.

This does not work during the rains and one needs to switch to the water heater during 3-4 months a year. 

Water stays hot in the solar water heater for approximately 24 hours.
Solar water heater is made of ETC tubes that efficiently trap the heat. One only needs to clean the dust accumulating on the tubes from the outside. This can be easily be removed by spraying water with a pipe or with a cloth, if needed.
---
What does it mean for the environment and your pocket?A solar water heater come in many sizes and you can choose one to suit your requirement. A 100 litre solar water heater costs approximately Rs 10,000. That is Rs 100 per 10 litres. So a 250 LPD solar water heater will cost approximately Rs. 25,000.
All heating amenities are power guzzlers. Installing a solar  water heater helps considerably cut down on the CO2 emissions from your house.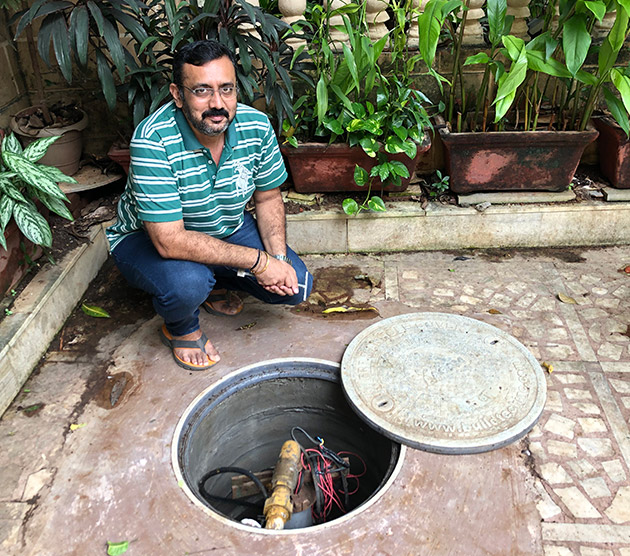 Rainwater harvesting
Rainwater harvesting was an urgent call for the couple seeing how we live with the irony of water shortage and flooding at the same time. "It hurts to see fresh rain water going into the sewage. This is one little way of giving back to Mother nature. I believe every house and building must to this. It is a very simple procedure that helps you store on an average up to 80,000 to 1,00,000 litres of water over one monsoon season. We were lucky to hit the water at 40 feet, but other places could go deeper till about 200 and sometimes 400-500 feet," Prashant informs. Besides, it helps neighbouring areas store water better. Says Vibhuti, "the natural tendency of water is to seep into low intensity areas. Once you make a pathway for it, it will automatically trickle into places that have a dearth of water." The system also treats water to become potable over 5-6 years of installation.
---
How do you start?
There are many ways to install a rainwater harvesting system – recharge of a borewell, digging a recharge pit, storing water running off from rooftop in tanks etc.

It's best to have your place studied by an expert company before you settle on the type best suited for your home/building.
In case of directing rainwater to an existing borewell

1. If you use an existing borewell, a pipe carries water from the terrace into a little well made with cement rings. This well has a filter placed inside with sand, gravel etc that purifies the water before letting it into the borewell. The rings ensure that only purified water enters the borewell.
2. Ensure that you clean the terrace before the rains or just let the first couple of showers wash out the dirt before letting the water into the borewell. There's a valve you can add to control the water that enters the borewell.

1. The filter needs to be cleaned professionaly twice a year – once before and once after the rains. This costs about  Rs 2,000 each time
---
What does it means for your pocket and the environment?
The installation charges in this case were Rs 65,000

An average monsoon (over a period of 3-4 months) channels 80,000 to 1,00,000 litres of water into the tank/borewell

Rainwater harvested from terraces and borewells and can directly be used as flushing water, which is on an average 35 litres per person per day!  

The water tends to get cleaner with each passing year and charges the water tables in the adjoining areas too.

The water tends to get potable after 4-5 years, but one must have the quality checked by a local expert before one can consume it.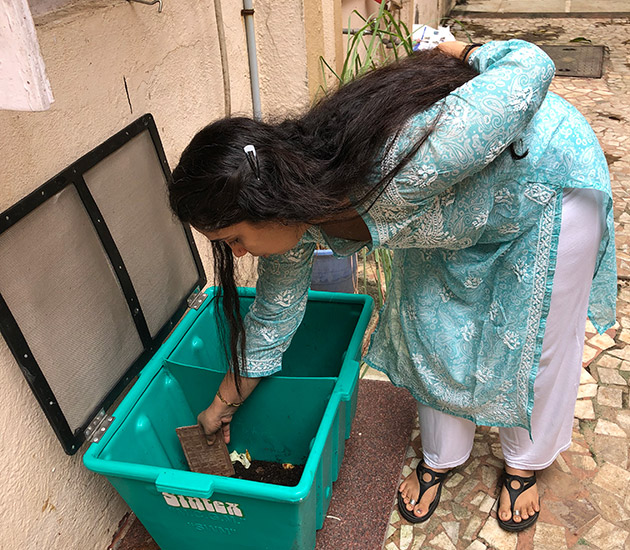 Composting
Composting is basically a process of turning one's wet waste into organic manure. So inspired is Vibhuti by the home composter and its role  in reducing waste that she has gifted it to two friends and has two more at home for anybody who shows the slightest inclination. "Many a times we have the intention but delay the process either due to lack of time of just procrastination. I am very happy to initiate the process for my friends so they don't have an excuse to delay!" Vibhuti fortunately has much use for the compost in her own garden that grows papayas, herbs and brinjals among other things, a rarity in a city like Mumbai. But for those that don't have the privilege, it is still a great idea, she insists. "Thanks to concretisation, our urban trees get no nutrition from the soil. Wouldn't it be lovely if we supplied the trees with our manure?" Adding further she says, "I don't know why we aren't treating waste disposal issues with a sense urgency. At a time when landfills are overflowing, this is the only logical option." 
Vibhuti also recommends asking your ward officer if they would accept the compost for the upkeep of the area's trees.
---
There are multiple options for home composters in the market. See what suits your home depending on the space available. If you live in a flat, you can go for smaller bins that occupy less space or can be kept on the grill. 

In case of vermicompost like the one installed in the Bajaria house, buy a compost bin, lace the bottom with a mix of coconut husk, cow dung and coco peat, an organic accelerator to the process (easily available at any nursery). Add to this the friendly worms or microbes bought from a supplier or a nursery. You can also check with the local municipal body such as the BMC that is expected to support citizen initiatives for cleaner living. 

Next, start putting your wet waste and stir occasionally.
One needs to maintain basic hygiene around the bin and ensure that the contents are regularly stirred. 

Ensure that the bin is well aerated.
---
What does this mean for your pocket and the environment?
A regular compost bin such as the one in the picture costs about Rs 3,000

The other ingredients put together cost not more than Rs 200.

The exercise eliminates the disposal of wet waste, turning it into gold for your gardens or neighbouring trees in your locality

Urban trees are truly stripped of nutrition and your compost manure could greatly help restore their health

It reduces the strain on our heavily burdened landfills, thereby not adding to its stench and the ecological hazards associated with it

But the home's eco points don't end here. The house has birdfeeds hung around the sides like a bunting to encourage winged visitors. Says the couple, "You won't believe the chatter we have around the house in the morning. It's so alive with the sound of birds!" 
Looking for green solutions for your home? Check out the following recommendations from the Bajarias
1. Solar panel installation – Oorjan Cleantech
2. Solar panels – Vikram Solar
3. Rainwater harvesting  – Osmosis 
4. Compost bin – Sintex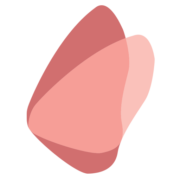 Team Ethico
We're a team that is unlearning modern-day, convenient living to be able to lead an environmentally ethical life, and in the process sharing our insights with our readers.