All aboard the Tiger Express – Ethico special feature on International Tiger Day
On International Tiger Day, Ethico salutes Govardhan Meena, who has been using a decked out minibus to introduce thousands of children to not just the majestic cats, but also to the forest in their backyard.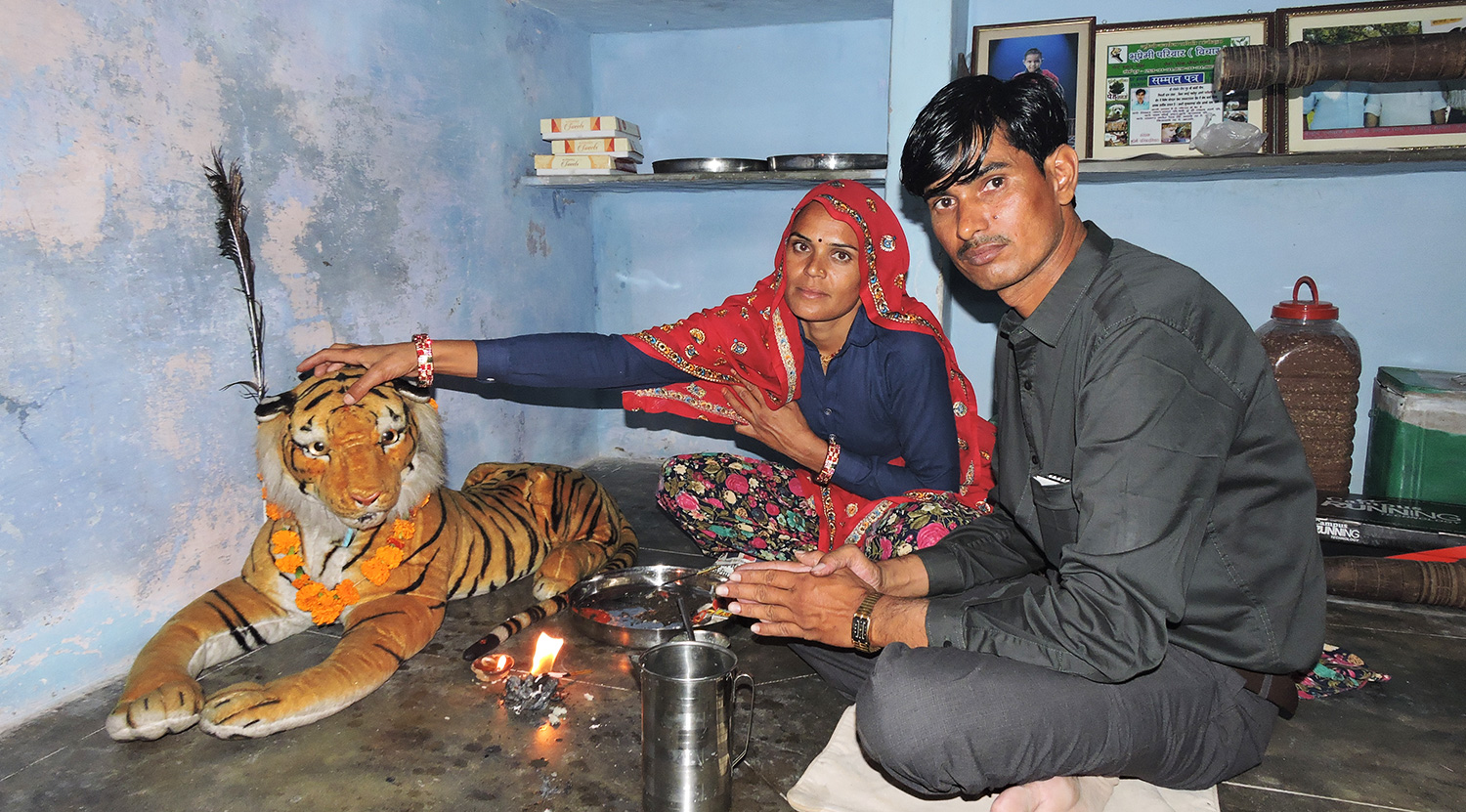 Govardhan Meena with his wife Nisha
"There are many I am fond of — Krishna, Sultan, Mala — but Machli was my favourite. She died in 2016. She was a legend. No one can replace her," says Govardhan Meena of the tigers that reside in Ranthambore National Park. These are the tigers he has been fighting to protect most of his life in his job as the local coordinator for Kids for Tigers (KFT), an initiative by Sanctuary Nature Foundation.
Meena lives with his mother, wife and two sons in Ranwal village, which lies on the periphery of the famed national park in Rajasthan. His journey with KFT began when he was a young boy, back in 2005.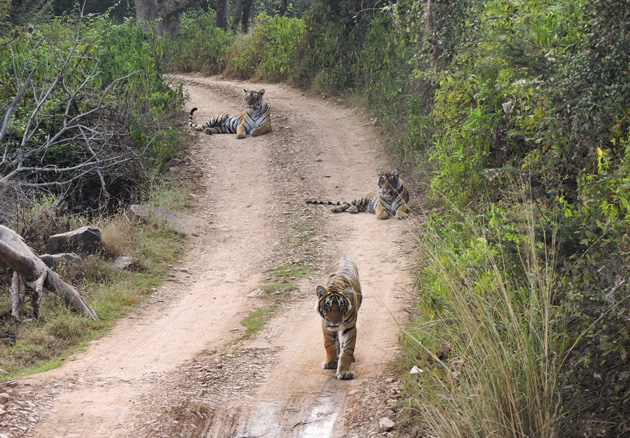 Since then, he has been driving around on a magical little minibus called the Tiger Express, which is decked out with a projector, a sound system, educational movies, a library and more. Off he goes into the villages surrounding the tiger reserve, picking up schoolchildren and taking them on an adventure — they track tigers on safari, plant trees, clean up underserved villages, watch movies about conservation, and put up tiger-themed plays for villagers. Despite being busy with all of this, Meena also finds time to rescue trapped wild animals for the local Forest Department.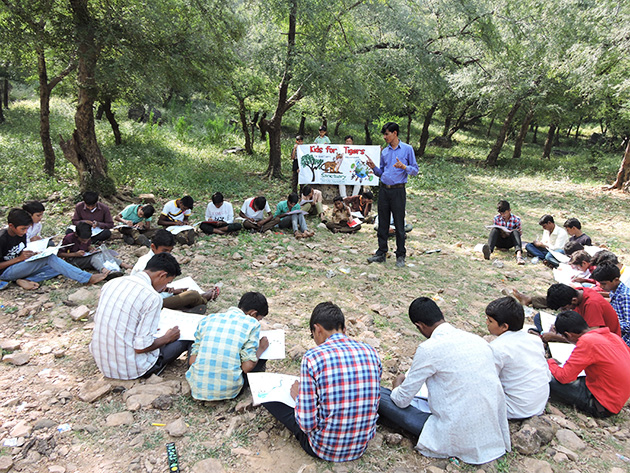 Going beyond tiger conservation
Kids for Tigers was established in 1999 as a national movement to educate rural children living next door to tiger habitats, as well as urban children across the country. But the tiger is a mere metaphor for all of nature. The ultimate aim of the programme is to teach children that protecting the tigers means protecting nature, and protecting nature means ensuring the well-being of our current and future generations.
So why Ranthambore, and why Govardhan Meena? Ranthambore was among the nine original Project Tiger reserves established in India back in 1973. Aside from housing the majestic cats, the park is home to a wide variety of flora and fauna including the Indian leopard, nilgai, sambar, and mugger crocodile. However, it had also been in the news for its fatal human-tiger interactions and poaching incidents. In 2005, there were only 25 tigers left in Ranthambore National Park. From a conservation point of view, there was plenty to be done, and Bittu Sahgal, the founder of Sanctuary Nature Foundation and KFT, was quick to respond.
"I remember it well. Bittu sir took some of us into the forest on a trail to spot tigers. I learned a lot that day, and that's when I knew I had to do something to save our beautiful national animal. I asked him to let me help, and that's how I ended up becoming the local coordinator for KFT," says Meena.
Sahgal talks about why the youngster stood out to him all those years ago. "Govardhan came into Sanctuary's life as a 12-year-old as part of our Kids for Tigers programme. From day one it was clear that there was something different about him. It wasn't just his interest in nature — it was empathy. Empathy with the animals he saw, the people he met, the efforts of others.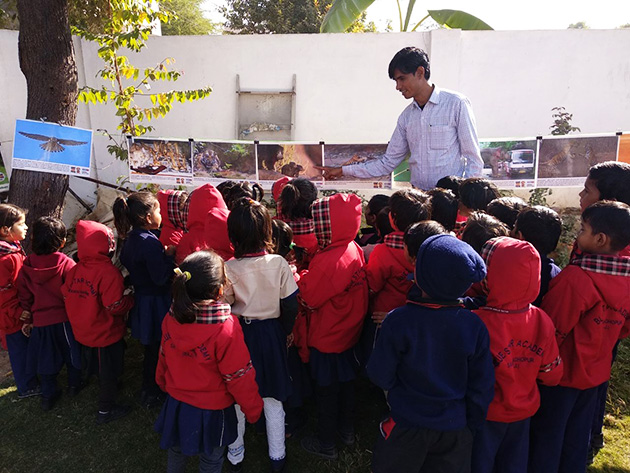 A few years later, in 2011, Meena was given the Tiger Express so he could move around easily from village to village. Even today, you will find him going around on the minibus while cheerfully humming his favourite tune, a Rajasthani song called Moriya Aacho Bolyo Re. He says, "Initially, villagers would call me useless and dismiss me. It took a lot of time and effort to get to a point where they started taking my work seriously. But I couldn't give up. It's our job to protect the animals — we can't let a single one go extinct. The day the forest ceases to exist is the day we cease to exist."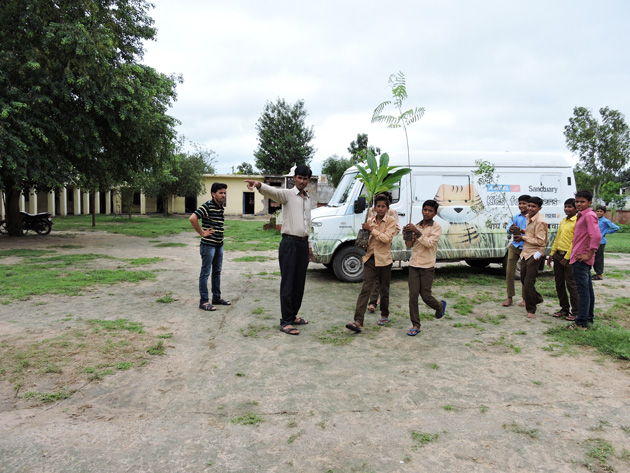 It starts with a child
Until now, Meena has reached out to thousands of children. "I have visited around 95 schools in 45 villages that border the park," he says. Along the way, he has also been setting a great example for his teenage sons. "They accompany me on my trips whenever they can, and I can see that they are proud of me. They say they want to be like me when they are older. It makes me very happy."
The children living in tiger country are, after all, our best weapons in the fight to conserve our forests — they will grow up to be tour guides, field biologists, forest guards or even green teachers. Given access to the right resources, they can also be conservation leaders and make their voices heard.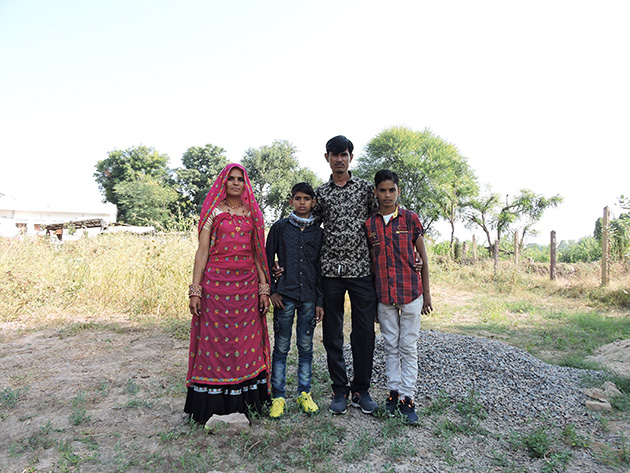 Meena talks about how educating children is also the best way to get the message across to the older generations. "Now, if the parents want to cut trees in the forest, or kill a snake, it is the child who tells them it's not the right thing to do. Very often, they listen. If they don't, that's when we get a call."
He also shares how earlier, the villagers would often count upon the Mogyas, a hunting tribe from the region, to kill tigers that ventured out of their territories and into villages. "But now, those same villagers call us if they spot hunters or poachers, or if an animal needs to be rescued," he says.
An ongoing effort
However, not everything is peaceful in Meena's backyard. While he may have been able to talk villagers down in the past, now, there are growing concerns. With the population of tigers steadily rising in Ranthambore National Park, the cats have been getting into territorial fights with each other, and also getting out of the park and into the villages. As a result several lives, both human and animal, have been lost.
And that was before the coronavirus outbreak. Ever since the epidemic began, most of Meena's work has come to a grinding halt. "We can't operate the way we used to. The schools are all shut and the kids are at home, so for now we only make infrequent trips into the forest."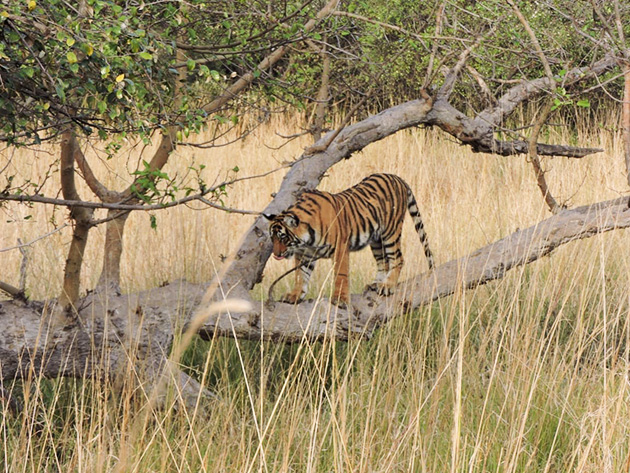 The implications of this worry Meena. He's adamant that the people living in the region around the sanctuary continue to be made aware of the desperate need to protect these tigers, and the habitat they live in.
However, sound engineer and wildlife conservationist Hans Dalal, who has worked on Vanya Kranti, a documentary on Meena's life which is being released today, shares that he's not too worried about problems arising in Ranthambore because of all the work Meena has already put in. "Apart from educating the children, he has also made other changes that aren't as visible. For instance, he has helped provide subsidised gas connections to homes in several villages to discourage villagers from going into the forest for firewood."
The documentary features testimonials from children as well as adults, and they all have only good things to say about the soft-spoken man. "The villagers love and respect Govardhan, that is quite evident. It takes a lot to change the mindset of so many people, and he has done it brilliantly," says Dalal.
He adds, "Over time, thanks to the role Govardhan plays, he has become the go-to guy for the Forest Department as well as for the villagers. If there's an issue, he gets a call. He's the missing link that ensures that everyone, both man and animal, can coexist harmoniously."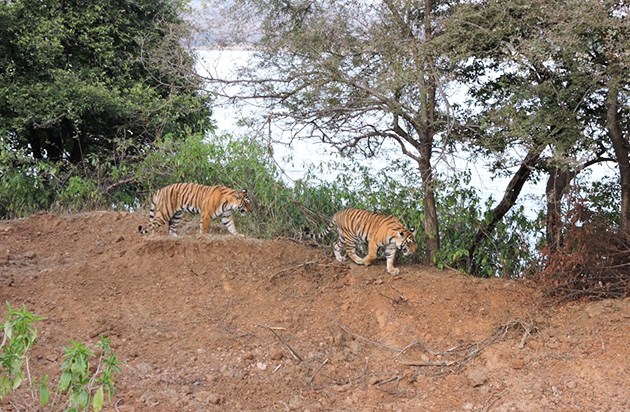 Sahgal echoes these thoughts, sharing that he is impressed by how Meena has helped change the very nature of the people-park relationships. "When the children come out to see the films we screen after dark, their elders join them and often over 300 people are transfixed with messages that remind them of their close bonds with the biosphere. Govardhan is the kind of hero I would like young India to look up to."
Image Credits: Govardhan Meena and Sanctuary Nature Foundation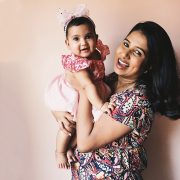 Shraddha Uchil
Shraddha Uchil is the consulting features editor at Ethico. After nearly a decade writing about food and culture for major publications, she has currently settled into her role as a new mum. Now, it's time to consider how she can help preserve the world for generations to come.